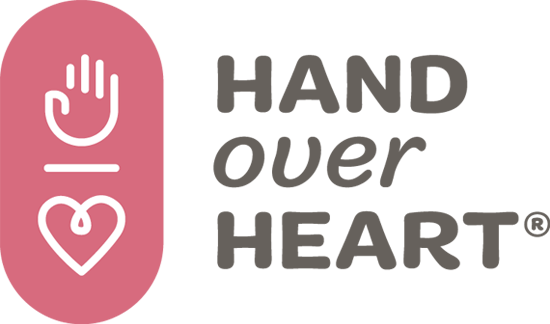 How do we make sure that our products are truly pure and free of harsh chemicals? We aim to use ingredients from pure, renewable, petroleum-free sources. We also compiled a list of Never-Evers: commonly-used agents and chemicals that will never be found in a Hand over Heart product.
Why Hand Over Heart?
Trust

We don't throw in an essential oil or two and call it 'natural'. We're the real thing.

Effectiveness

Nourish and hydrate your skin and hair with powerful, plant-based ingredients that actually work.

Non-irritating And Safe

Our hypoallergenic and pH-balanced formulas are suitable even for sensitive skin.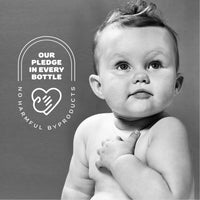 Our Commitment 
When we became parents, we wanted to keep our babies safe. We pledged to keep dyes and toxins away from their skin and lungs, to keep unsafe chemicals far, far away.
But we believe that no one should have to choose between cleaner living and an effective clean. And it became our mission: to protect not only our babies, but to help families the world over nourish, nurture and protect their children, their homes, and themselves, so that we can all live a pure and better life.
Take the Pledge.
Our Customers Love Us
I started using HOH baby shampoo when my baby was an infant. She's 2 1/2 now and I can't part with it. Not going to stop using this too soon. It has a delicious smell and cleans well. Her hair comes out fresh after bath (not oily.. ) Free of chemicals. This is a must! Thanks HOH for these clean products.

Jessica Brown
My son has bad eczema and HoH baby shampoo didn't seem to bother his skin at all. Lathers nicely. No issues here!

Ashley Farber
II am really liking this deodorant.It glides on easily without thick buildup. I stay odor free all day long, even when I've been out walking or working around the house. None of this transfers onto my clothing either.

Fay Loyd
My favorite thing about Hand over Heart Citrus Lavender Cleansing Soap Bar is the citrus scent. It helps you feel relaxed and refreshed. The soap itself is good too - it cleans gently and doesn't dry out my skin.

James Rohde
Love Hand Over Heart pure surface cleaner. Works well at cleaning my countertops and I even use it all over the bathroom (including the floor). Love that it's free of toxins and noxious odors.

Lisa Lauer
My dogs were plagued with itchy skin and I had tried other products with no success. I was impressed with the natural ingredients so I tried these Bark Bombs and my dogs loved them. Definitely noticed much less itching and will continue to order.

Kate Bushor
Take the PledgeTM.
Win a basket of
FREE Products
Take the pledge to WIN!
As seen on
Proudly and consciously made in the USA, each Hand over Heart bottle is safe, gentle, pure, and good for all family members to use.

Hand over Heart makes sure that every bottle is carefully, lovingly, and scrupulously evaluated and made with natural and non-toxic ingredients. They only create personal and household care products that are gluten free, pH balanced, cruelty free and vegan.

With Hand over Heart, caring for the family doesn't have to be complicated.